Best Practices for Fingerprint Time Clock Hygiene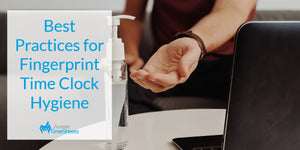 Fingerprint time clocks are perfect for employees to use to clock in and out each day. Biometric clocking helps to eliminate buddy punching and time theft from a business. Fingerprint clocks are reliable and improve efficiency in the workplace, and that's why they are the number one choice for Australian businesses.   
When it some to hygiene and cleanliness you may have some questions. How often should you be cleaning the fingerprint time clock and how should you clean the time clock.   

Your employees could be concerned about using the fingerprint time clock with everyone touching and using the same sensor, especially with hygiene and cleanliness being at the top of everyone's mind since the COVID-19 outbreak. You may be wondering if there is an alternative clocking method.  

We have listed below some cleaning tips and alternative clocking methods for your fingerprint time clock. 
Here are our tips on what you can do to ensure fingerprint time clock hygiene in your workplace.   
1: Cleaning After Use
We recommend during this time to wipe the fingerprint sensor on the clock after use each morning and afternoon, and this will help to stop the spread of germs. Generally, the clocks will need a weekly wipe over with a damp cloth.   

2: Sanitise & Wash Your Hands  
Employees should wash their hands after touch the fingerprint time clock. Washing your hands for 20 seconds is by far the best way to keep from getting sick and prevent the spread of germs.  
3: Use Proximity Clocks with Cards or Tags   
Fingerprint time clocks should have an alternative way of clocking as a backup. We offer proximity cards and tags which can be used at the clock as an alternative to the employee's fingerprint. Employees never have to touch the device when clocking in and out for work or breaks; employees waive the proximity cards past the clock, and the time is logged.  

4: Implement Facial Recognition Time Clocks  
A facial recognition time clock is entirely contactless. Our face scan clocks use live detection to sense when an employee is in front of the device and displays the clocking screen. Employees never have to touch the screen on the clock to enable signing in and out. Touchless clocking is better for a hygienic workplace. 
5: App Clocking  
Employees can clock on and off from anywhere right from the app on their smartphone. App clocking is a great way to help keep COVID-19 from spreading when clocking in and out for work. Your employees can log in and out using their smartphone or any device, and they don't even need an internet connection. We can help you capture your employee's attendance, including employees who are working remotely or from home. Find out more My Workforce Employee App.  
6: Web Clocking  
An employee web portal is another excellent method for contactless clocking. Employees can access an employee self-service web page from their from the pc or laptop. Web clocking is great for call centre staff or employees working from home.   
Our Aussie Time Sheets Fingerprint Time Clock has the latest fingerprint technology to ensure your employees can clock on and off quickly, and accurately at any time of day, no matter what industry. If you're ready to learn how a fingerprint time clock can change the way you manage time and attendance, contact our Aussie Time Sheets team today. 
Leave a comment
Comments will be approved before showing up.
---
Also in Time & Attendance
The holiday season is a whirlwind for businesses, marking the busiest time of the year. To meet the skyrocketing demand, many employers turn to Christmas casual employees. While this approach can be a win-win for both employers and temporary staff, it is crucial to tread carefully through the legal landscape.
Biometric systems are commonplace in workplaces, ensuring the safety of employee data has become paramount. With its commitment to best practice security measures, Aussie Time Sheets sets an exemplary standard in protecting employee data
Contactless timekeeping has become a crucial preventative measure to take during the cold and flu season. By implementing a contactless timekeeping system, you help to save time, reduce the risk of absenteeism, and protect your employees from contagious illnesses.