Calculate multiple Allowances with Aussie Time Sheets Premier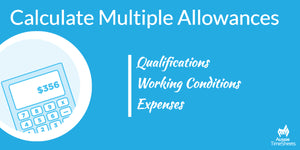 In the previous blog we covered accruals of time and lastly, we will cover the final most popular timesheet calculation allowances. The majority of modern awards specify that a monetary allowance is applied to reimburse an employee for a number of different conditions or qualifications across many industries. An allowance is an amount paid to an employee in a specific circumstance, carrying out a particular work or having certain responsibilities.
Allowances are separately identified payments made to an employee for a number of reasons. These include: 
Working conditions - for example, dangerous heights or cold allowances

Qualifications or special duties - for example, first aid certificate or safety officer.

Expenses that can't be claimed as a tax deduction by the employee – for example, normal travel between home and work.

Work-related expenses that may be claimed as a tax deduction by the employee - for example, travel between work sites.

An example of an allowance might be a First Aid allowance rate where a certified employee is the First Aid Officer during a rostered shift. This means the employee is entitled to receive additional income in the form of an allowance based on the number of hours they have worked. Another example could be a real estate agent might be paid a weekly travel allowance to help cover the costs of transporting clients to see properties.
Leave a comment
Comments will be approved before showing up.
---
Also in Time & Attendance
The holiday season is a whirlwind for businesses, marking the busiest time of the year. To meet the skyrocketing demand, many employers turn to Christmas casual employees. While this approach can be a win-win for both employers and temporary staff, it is crucial to tread carefully through the legal landscape.
Biometric systems are commonplace in workplaces, ensuring the safety of employee data has become paramount. With its commitment to best practice security measures, Aussie Time Sheets sets an exemplary standard in protecting employee data
Contactless timekeeping has become a crucial preventative measure to take during the cold and flu season. By implementing a contactless timekeeping system, you help to save time, reduce the risk of absenteeism, and protect your employees from contagious illnesses.