How Does a Facial Recognition Time Clock Work?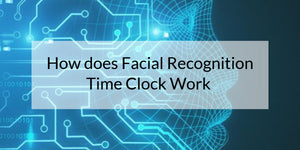 What is a Face Scan Time Clock?
Our Aussie Time Sheets Face Scan Time Clock is a system used to manage employee's time and attendance. Face Scan Time Clocks use facial recognition technology to clock employee's start and finish times, eliminating the need for manual timesheets and payroll processes.
How Does a Face Scan Time Clock Work?
Our Aussie Time Sheets Face Scan Time Clocks are simple and quick to use, all employees need to do is look at the time clock at the start and end of the day. Using facial recognition technology, the Face Scan Time Clock will instantly confirm or reject the employee's identity. The device then records the employee's details and time and logs it in its internal memory, which is then sent to the Aussie Time Sheets software to be calculated and ready to be reported for payroll. The Face Scan Time Clock is perfect for work environments that may leave the fingerprints damaged or dirty.
How Will a Face Scan Clock Benefit My Business?
There are a number of significant benefits to introducing a Face Scan Time Clock into your business. Face Scan Time Clocks eliminates time theft, which is when employees arrive later or leave earlier than their work hours or take longer than allocated breaks. An Aussie Time Sheets Face Scan Time Clock also eliminates buddy-punching, which is when people clock on or off for their co-workers for time they did not actually work. These systems can also save you significant amounts of time and money. Automating your timesheet and payroll processes frees up precious admin hours spent on payroll and employee management. Reducing administrative hours will also save your business money, along with money saved through costly mistakes in inaccurate time reporting, tardiness, time abuse and buddy punching.
If you'd like to learn more about our Aussie Time Sheets Face Scan Time Clocks, contact our friendly team today. No matter the size of your business, you can save significant amounts of time and money by implementing an Aussie Time Sheets time and attendance solution to your business.
Here's what some of our customers have to say:
Rock Ridge Farming - 5 Stars
"The hardware is great, much better than our previous face clocks. The advanced software is also really good."
PCT International - 4 Stars
"Unit is performing well and provides what we need certainly. The initial setup is a little tricky but help was always at hand. It doesn\'t always recognise a person but it depends on contrast settings and background lighting etc. Overall we are happy with the basic features. We don\'t make use of the advanced features but its good to know they are there if and when we need them. We love the fact that no one can proxy clock on or off and its fixed our attendance issues without doubt."
1 Response
Leave a comment
Comments will be approved before showing up.
---
Also in Time & Attendance
The holiday season is a whirlwind for businesses, marking the busiest time of the year. To meet the skyrocketing demand, many employers turn to Christmas casual employees. While this approach can be a win-win for both employers and temporary staff, it is crucial to tread carefully through the legal landscape.
Biometric systems are commonplace in workplaces, ensuring the safety of employee data has become paramount. With its commitment to best practice security measures, Aussie Time Sheets sets an exemplary standard in protecting employee data
Contactless timekeeping has become a crucial preventative measure to take during the cold and flu season. By implementing a contactless timekeeping system, you help to save time, reduce the risk of absenteeism, and protect your employees from contagious illnesses.