How Much Money Can I Really Save With a Time and Attendance Solution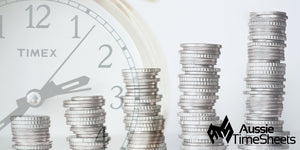 As a business owner, you'll know that every hour in your day is precious and every dollar matters, so what if we told you you could save hours of valuable time and thousands of dollars with a simple software solution? At Aussie Time Sheets, we offer a quality range of time and attendance solutions for businesses of every size and industry, from small businesses to national enterprises. Our time and attendance software solutions are designed to simplify and streamline your business by eliminating manual timesheets and automating your payroll process.
An Aussie Time Sheets time and attendance solution can save your business significant amounts of money; not only by reducing the administrative hours spent on payroll, but also by eliminating errors in payroll, inaccurate time reporting, tardiness and buddy punching.
Any new software or system is always an investment for a business, so we wanted to break down exactly how much money you can save with a time and attendance solution.
Say you have the below business:
Pay periods per year: 52 (weekly)
Number of employees: 20
Hourly wage of payroll staff: $25
Hourly wage of employees: $20
Number of hours per work week: 38 hours
Number of work weeks per year: 50 weeks
Time spent adding up each time card: 2.5 minutes (estimated to take about 5-6 minutes to manually total up and audit each employees time card or time sheet)
Time theft per employee per day: 5 minutes (estimated up to 10 minutes per day per employee is lost due to tardy arrivals, early departures and long breaks/lunches)
Clerical error rate: 1.0% (estimated 1-8% clerical error rate when totaling employee hours manually)
No more manual calculations:
With an Aussie Time Sheets time and attendance system, there is no need for any more manual calculations. The timesheet software will automatically total employees' work hours, saving your payroll staff the time of manual calculations.
Time saved per year: 43.33 hours
Annual savings: $1,083.25
No more clerical errors:
With workforce management software, the risk of clerical errors are virtually eliminated due to the system's automatic calculations. This saves significant money in incorrect pay, as well as the time and money necessary to correct these errors.

Annual gross payroll: $760,000
Annual savings: $7,600
No time theft:
Our time and attendance systems use fingerprint and facial recognition technology, which eliminates the risk of buddy-punching and significant hours lost to this. As these systems accurately record arrival and departure times, you also only pay for actual work time and the potential for time theft is reduced. For these figures, we've assumed a conservative 50% reduction per employee per day.

Time saved per year: 250 hours
Annual savings: $5,000
Total annual savings: $13,683.25
Compare this huge saving to the price of an affordable Aussie Time Sheets time and attendance solution and you can see how quickly your new system will pay for itself and start saving your business significant money too.
These figures are based off an average business, to work out a more accurate saving for your business you can check out our ROI calculator. If you'd like to learn more about our time and attendance solutions and how they can benefit your business, contact the friendly Aussie Time Sheets team today.
Leave a comment
Comments will be approved before showing up.
---
Also in Time & Attendance
The holiday season is a whirlwind for businesses, marking the busiest time of the year. To meet the skyrocketing demand, many employers turn to Christmas casual employees. While this approach can be a win-win for both employers and temporary staff, it is crucial to tread carefully through the legal landscape.
Biometric systems are commonplace in workplaces, ensuring the safety of employee data has become paramount. With its commitment to best practice security measures, Aussie Time Sheets sets an exemplary standard in protecting employee data
Contactless timekeeping has become a crucial preventative measure to take during the cold and flu season. By implementing a contactless timekeeping system, you help to save time, reduce the risk of absenteeism, and protect your employees from contagious illnesses.