How to Make Payroll Processing Easier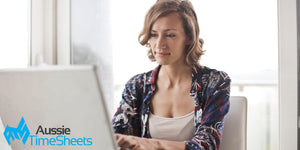 Any successful business owner will know the importance of efficiency and organisation, and the dramatic difference this can make to the business's productivity and profitability. In today's fast-paced environment, it is more important than ever to implement practices that allow a business to produce better results with less management.
Processing payroll manually is an inefficient use of an owner or managers time; deciphering handwritten notes and hours, chasing up missing timesheets, applying overtime rules, manually calculating hours worked and then inputting this information into your payroll system all take up time that could be better spent growing the business. Instead of spending precious time on manual payroll processes, at Aussie Time Sheets we can help you move to automated payroll management systems that make processing your payroll simple, quick and reliable.
Here are some of the ways that implementing a time and attendance management system can reduce your payroll costs and the risk of payroll errors:
1. Reduces payroll costs: Time and attendance management systems can save your business significant amounts of money. Not only by reducing the administrative hours spent on payroll, but also by eliminating inaccurate time reporting, tardiness and buddy punching. You can use our ROI calculator to estimate how much money you could save with an Aussie Time Sheets time and attendance management system.


2. Reduces payroll errors: When manually processing payroll, human error is inevitable and can be very costly to fix. A time and attendance management system ensures your employees are paid correctly and avoids any delays in payroll or disgruntled employees. Our time and attendance management systems also have intuitive award interpretation, allowing the employer to calculate multiple allowance types per department or employee. This avoids any penalty rate problems and potential mistakes in tax filing.


3. Reduces time theft and buddy punching: Time theft can be a major financial burden on a small business, with an estimated 4.5 hours per week per employee being lost to time theft. Our time and attendance management systems use both face scan and fingerprint recognition, eliminating the risk of buddy punching, which is when one employee clocks on or off for another. It also eliminates the possibility of time theft, where an employee may be logging incorrect breaks or taking unscheduled overtime.


4. Ensures compliance: Our time and attendance management systems automatically calculate overtime, annual leave, sick leave and public holidays, so you can always have peace of mind you are paying your employees the correct award rate and complying with local labour laws.


5. Seamless integration: Our Aussie Time Sheets time and attendance management systems seamlessly integrate with all of the major payroll platforms to export data and make payroll that much easier.


So what are you waiting for? Contact the friendly team at Aussie Time Sheets today to see how our time and attendance management systems can reduce your payroll costs and payroll risks and save your business time and money.
Leave a comment
Comments will be approved before showing up.
---
Also in Time & Attendance
The holiday season is a whirlwind for businesses, marking the busiest time of the year. To meet the skyrocketing demand, many employers turn to Christmas casual employees. While this approach can be a win-win for both employers and temporary staff, it is crucial to tread carefully through the legal landscape.
Biometric systems are commonplace in workplaces, ensuring the safety of employee data has become paramount. With its commitment to best practice security measures, Aussie Time Sheets sets an exemplary standard in protecting employee data
Contactless timekeeping has become a crucial preventative measure to take during the cold and flu season. By implementing a contactless timekeeping system, you help to save time, reduce the risk of absenteeism, and protect your employees from contagious illnesses.