What to Do if an Employee Forgets to Clock In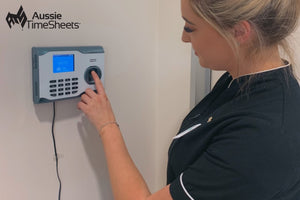 What to Do if an Employee Forgets to Clock In?
Keeping track of employee work hours is a major part of any manager's role; without accurate timesheets, it becomes difficult for the administration team to know how much employees should be paid. Time and attendance management software has been designed to make your life easier. However, there will still be employees who for whatever reason, forget to use it. Having to fix timesheet errors is not only inconvenient, but it can become a costly exercise if it is repeatedly happening.
If an employee forgets to clock in or out, guessing games begin, which results in potential inaccuracies in payroll and wasted time. While you can edit hours worked in the Aussie Time Sheets software, this is not a habit you want to encourage. So, what can you do to ensure employees clock in and out reliably? When you implement a new time and attendance solution, spend some time with your team addressing the new system and how it works. It's important to share with employees that the new system is not just designed to make management's life more comfortable, but the workforce's too. Having a time and attendance system in place ensures that employees will always be paid accurately and on time, which increases employee morale.
One of the most important things to do is to make sure employees understand they are responsible for their attendance. In workplaces where employees are reliably clocking in and out each day, there is typically one common factor, that being that the employees understand that they are accountable for their hours worked each day. To ensure your employees know the importance of clocking in and out, start by implementing a written policy requiring them to do so. Outline the requirements of your employees, what must be done if they forget to clock in or out and any disciplinary actions that follow. This will also help to protect you, as you will be developing a written procedure. Ensure all of your employees have read, understood and signed this policy.
Upon introduction of a time and attendance solution, you may like to encourage your employees to set email reminders or alarms to prompt them to clock in and out on time. You could also offer incentives for employees who are consistently clocking in and out on time. Helping employees understand the improved efficiency and payroll accuracy that comes with using a time clock will ensure they are reliably clocking in and out each day.
Time and attendance solutions are very useful in identifying any issues with employee time theft quickly and easily. If there were problem employees who were consistently showing up late, leaving early or taking longer than allocated breaks, this is going to be highlighted immediately with a time clock.
If you'd like to learn more about our time clocks and how they can save your business time and money, contact the friendly Aussie Time Sheets team today.
Leave a comment
Comments will be approved before showing up.
---
Also in Time & Attendance
The holiday season is a whirlwind for businesses, marking the busiest time of the year. To meet the skyrocketing demand, many employers turn to Christmas casual employees. While this approach can be a win-win for both employers and temporary staff, it is crucial to tread carefully through the legal landscape.
Biometric systems are commonplace in workplaces, ensuring the safety of employee data has become paramount. With its commitment to best practice security measures, Aussie Time Sheets sets an exemplary standard in protecting employee data
Contactless timekeeping has become a crucial preventative measure to take during the cold and flu season. By implementing a contactless timekeeping system, you help to save time, reduce the risk of absenteeism, and protect your employees from contagious illnesses.