Why a Fingerprint Time Clock Works for Employee Attendance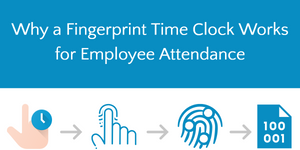 Does my Business Need a Fingerprint Time Clock Scanner?
Are you struggling with employee time theft? Frustrated with having to pay employees for hours they didn't work, or constantly chasing up employees for timesheets? No matter the size of your business or your industry, every business owner understands the investment involved in taking on and managing an employee. Employees can bring huge benefit to your business, but they also require time and resources to manage; from chasing up missing time sheets, calculating hours worked, deducting breaks and manually processing payroll. Not to mention the hours lost through tardiness, buddy punching or unproductivity.
A key part of running an efficient workforce is being able to manage attendance easily and accurately. As managers, you need to know which employees are working when, and ensuring they are showing up on time and leaving at the correct time. Monitoring attendance allows managers to easily spot any issues with attendance or productivity before it becomes a problem.
If you work in a service-based business, it is crucial to track employee's work hours as you are likely charging your clients for this employee's time and expertise. Likewise, in a manufacturing or retail environment where productivity is essential to the probability of your product, it is important to manage your employee's time and attendance. Regardless of the industry your business falls under, it is likely you have workers who are guilty of time theft, and if you do it is costing your business money.
How Does a Fingerprint Time Clock Scanner Work?
Our Aussie Time Sheets Fingerprint Time Clock Scanner uses biometric technology to identify an employee by their unique fingerprint. As an employee clocks on or off from work, they simply need to scan their fingerprint on the Fingerprint Time Clock Scanner, which then collects this data and automatically sends it to the time and attendance software. Featuring the latest fingerprint recognition technology, the Fingerprint Time Clock Scanner has a SilkFP sensor that works even when fingerprints may be dry, wet or cracked. The Aussie Time Sheets Fingerprint Time Clock Scanner is the perfect solution if you are concerned with time theft or buddy punching, as it holds employees accountable for their work hours.
Implementing an Aussie Time Sheets Fingerprint Time Clock Scanner will increase employee attendance, as the employee becomes responsible and accountable for their hours worked. With structure in place and accountability in the employee's hands, productivity will also increase as they know exactly when they must show up and when they can finish for the day, with no room for miscommunication or error.
If you're ready to learn more about biometric technology and our Fingerprint Time Clock Scanners, contact the friendly Aussie Time Sheets team today.
Here's what some of our customers have to say about our Fingerprint Time Clock Scanners:
"The whole process of working with Aussie Time Sheets has been great! Right from sales through to installation, the team are extremely friendly and helpful. This was a great outright solution to our payroll system and we look forward to getting it fully up and running. – Lighthouse Care

"Training was fantastic. Support was fantastic, did I mention fantastic?" – Structural Concrete Industries

"We installed a finger printer scanner prior to Christmas and have been using Aussie TimeSheets software. From beginning to end the service has been fantastic. They helped us with the set-up to ensure time clock was meeting our needs. Couldn't be happier. Would recommend to anyone looking for a time and attendance solution." – Kylie Jewell

"The fingerprint clocks/scanners from Aussie Timesheets have been a huge upgrade to our payroll process. We are saving in excess of 8 hours in manual work each fortnight processing 150+ individual pays. The system has saved us countless hours in pay by accurately keeping track of late starts and early outs and we are able to automatically report on tardiness which was all manual work before. The employees have taken to the system extremely well and we have sub 5 staff per 24hr period who forget to scan in or out. I could not fault the system and the amazing helpful staff at Aussie Time Sheets." – Tom Seelbach
Leave a comment
Comments will be approved before showing up.
---
Also in Time & Attendance
The holiday season is a whirlwind for businesses, marking the busiest time of the year. To meet the skyrocketing demand, many employers turn to Christmas casual employees. While this approach can be a win-win for both employers and temporary staff, it is crucial to tread carefully through the legal landscape.
Biometric systems are commonplace in workplaces, ensuring the safety of employee data has become paramount. With its commitment to best practice security measures, Aussie Time Sheets sets an exemplary standard in protecting employee data
Contactless timekeeping has become a crucial preventative measure to take during the cold and flu season. By implementing a contactless timekeeping system, you help to save time, reduce the risk of absenteeism, and protect your employees from contagious illnesses.