Aussie Time Sheets Payroll Integration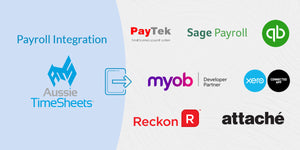 Aussie Time Sheets is a time and attendance application designed for small Aussie businesses.  Automatically calculating your employees time sheets takes the hassle out of preparing your information for payroll each week.
With fully calculated time sheets, Aussie Time Sheets can then export that data to numerous payroll application for quick import.  Here is the application we currently export to, with more on the way:
PayTek is a small business payroll application. It provides everything you need to manage your payroll. PayTek is designed and developed in Australia. Super Stream compliant. Send you timesheets direct from our software to PayTek. You can super streamline your payroll, ensuring your business is compliant.  
It's easy to process your payroll, pay superannuation and stay compliant.  With Xero, your payroll information is seamlessly updated into your accounts, eliminating the need for manual data entry.
Aussie Time Sheets now integrates directly with your Xero payroll.  Xero is one of the most popular cloud accounting applications in Australia, and processing your employees' payroll can now be done in minutes.
Our integration allows employees fully calculated work hours to import as Approved Time Sheets in Xero. It also sends all Leave in Aussie Time Sheets as Approved Leave. No exporting, no importing, direct API integration to Xero Payroll with the click of a button.
Employees can then view their time sheets and leave using an employee Xero login, or using the Xero ME app.
 Aussie Time Sheets makes integration with Xero Payroll easy.
Increase business efficiency with real-time payroll management software.  Simple payroll management for small business.  Flexible payroll engine for larger firms.
Exporting timesheet data from Aussie Time Sheets to Attaché is simple. Your timesheets are automatically calculated and once approved are exported from the Aussie Time Sheets software. The Attaché export is formatted into the required template, and when exported to Attaché, it can be processed for payroll. The whole process only requires a few clicks of a button!
MYOB AccountRight and MYOB Essentials 
Aussie Time Sheets and MYOB together provide a simple solution to control employee time and attendance and payroll. Manage, modify and approve timesheets with Aussie Time Sheets. Integrate with MYOB to stay compliant while processing payroll.     
Capture employee start, finish and breaks times through our affordable range of time clocks or employee apps. Automatically calculate timesheets and manage employee leave with our suite of time and attendance software solutions. Send your data directly to MYOB AccountRight and MYOB Essentials via API with one click, saving you more time on payroll.     
Timesheets are a breeze with our API Integrations with MYOB AccountRight and MYOB Essentials.   
MYOB Premier
Timesheets are exported via a file export-import to MYOB Premier. Save time on payroll by exporting your timesheet data directly to the timesheet area for MYOB Premier.
With QuickBooks, it's easy to process your payroll, calculate payroll tax, pay superannuation and stay compliant. QuickBooks online accounting software that allows you to run your business on your terms.  
Our timesheet software integrates with QuickBooks online accounting software and together provide you with fully automated timesheet and payroll. Once your timesheets are ready, our software produces a CSV file in the Quickbooks required format, and they are ready to be exported to Quickbooks to process payroll.  
Payroll handled in seconds, saving you time and money that can be better spent growing your business.  
Sage WageEasy makes payroll processing simple and efficient while ensuring compliance with modern awards and legislation so that you can focus on what you do best. 

Our software solutions directly integrate with Sage to make your timesheets to payroll process easy. Exporting to Sage from Aussie Time Sheets is simple when your timesheets are ready at the end of the pay period, the data is exported directly Sage ready for payroll. Employee timesheets to payroll in just a few clicks of the mouse!
Easily manage wage, leave and super for an unlimited number of staff. Reckon One Payroll is Single Touch Payroll compliant and ATO certified, so you easily meet your STP reporting requirements.  
Once your timesheets are ready, our software produces a file export in the format Reckon requires. The file is exported to Reckon ready for your normal payroll process without and manual data entry.  
Leave a comment
Comments will be approved before showing up.
---
Also in Time & Attendance
The holiday season is a whirlwind for businesses, marking the busiest time of the year. To meet the skyrocketing demand, many employers turn to Christmas casual employees. While this approach can be a win-win for both employers and temporary staff, it is crucial to tread carefully through the legal landscape.
Biometric systems are commonplace in workplaces, ensuring the safety of employee data has become paramount. With its commitment to best practice security measures, Aussie Time Sheets sets an exemplary standard in protecting employee data
Contactless timekeeping has become a crucial preventative measure to take during the cold and flu season. By implementing a contactless timekeeping system, you help to save time, reduce the risk of absenteeism, and protect your employees from contagious illnesses.