How to Choose the Right Time and Attendance Solution for Your Medical Practice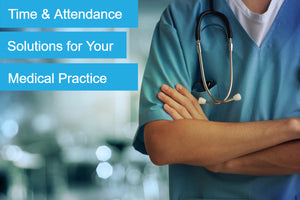 Working in the healthcare industry, you know that your priority is the wellbeing of your patients. It can be difficult to focus on providing excellent healthcare services however when significant hours are being spent on paperwork, manual timesheet and payroll processes and managing employees. Paper timesheets and manual rostering and payroll processes quickly amount to wasted administrative hours, unproductive workplaces, lost work hours and costly mistakes.
The healthcare industry also relies on accurate rostering to ensure patients can always access medical care, so a simple and reliable solution to ensure adequate staffing is crucial.
An Aussie Time Sheets time and attendance solution eases the administrative burden of timesheets and payroll, so you can focus on providing an excellent healthcare service.
Time Clocks for a Healthcare Practice
Our Aussie Time Sheets Fingerprint Time Clock paired with our Premier software is the perfect time and attendance solution for the healthcare industry.
Features:
Windows-based time and attendance system
Employees clock in and out quickly and easily with fingerprint recognition
Biometric clock options to ensure accurate shift times are recorded
Ability to create multiple shifts and assign shifts to employees
Employees are able to easily swap between shifts
Automatically calculating timesheets that can then export to payroll
Exports to Xero, MYOB, Quickbooks, Attache, Paytek and more
2 year warranty
Features:
Multiple users – install the software to multiple PC's
Employee web portal – gives employees the ability to login and clock on or off from anywhere, perfect for mobile healthcare workers. The street address of their location is attached to the clocking time and date for easy reporting
Employee time sheet approvals – managers or supervisors can approve multiple time sheets for a group or department
Direct payroll integration exports to MYOB, Xero, Wage Easy, Quickbooks and many more
Additional calculations to handle comprehensive award rates, including:
- Accruals such as required day off, time in lieu and accrued time
- Allowances such as first aid, meal or travel allowances
- Loading rates such as casual shift loadings and leave loadings
Time Sheets for a Healthcare Practice
There are significant benefits to implementing a time and attendance solution to your healthcare business; from reducing administration and payroll hours and therefore costs, to streamlined operations, to increased worker accountability and productivity. As the healthcare industry relies on adequate shift coverage and workforce scheduling, a time and attendance solution can also help ensure there are no gaps in staffing. With intuitive award interpretation, you can also have peace of mind that you are always paying your employees the correct award and allowances.
If you'd like to learn more about how a time and attendance solution can support your healthcare business, contact our friendly Aussie Time Sheets team today.
Leave a comment
Comments will be approved before showing up.
---
Also in Time & Attendance
The holiday season is a whirlwind for businesses, marking the busiest time of the year. To meet the skyrocketing demand, many employers turn to Christmas casual employees. While this approach can be a win-win for both employers and temporary staff, it is crucial to tread carefully through the legal landscape.
Biometric systems are commonplace in workplaces, ensuring the safety of employee data has become paramount. With its commitment to best practice security measures, Aussie Time Sheets sets an exemplary standard in protecting employee data
Contactless timekeeping has become a crucial preventative measure to take during the cold and flu season. By implementing a contactless timekeeping system, you help to save time, reduce the risk of absenteeism, and protect your employees from contagious illnesses.