My Workforce TNA - Android Employee App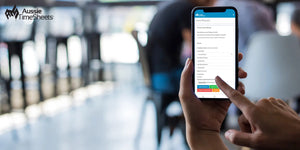 My Workforce TNA - Android Employee App
Aussie Time Sheets is proud to announce the first version of our dedicated android app has been released and is ready to download from the Google Play Store.  My Workforce TNA is completely FREE to download to an Android device. You will feel more connected to your team and have data at your fingertips. Your employees will love the self-service features they will now have access to. 
We have designed a seamless time clock app to help businesses of all sizes to easily track and record employee time and attendance. Producing accurate timesheets and reducing manual calculations and payroll errors. Saving your business time and money on employee payroll.  
Hold employees accountable for their work hours and record allowances and loading rates. Have the peace of mind when paying your employee that they are getting the exact amount they are entitled to.
The app works with the ATS Workforce TNA software and allows employees to quickly and easily log time, view timesheets, request leave and much more.  
Features Include:
Employees can quickly 
and
 easily log their time
Log time from anywhere on the road or in the office 

 

Recording the exact location of where they have logged in or out from

 
No internet or 
WiFi
, No worries! 
Employees can log their time while they are offline  

 

Saves and stores times logged 

 

Automatically sends the times when your back online

 
Live & Up to date access to My Timesheets & Employee Schedules
With live updates you will know exactly when your employee arrives and leave work, you can see who is in, out and absent at a glance.
Employees can access their timesheet for any pay period

 

Access total exact start and finish times and allowances

 

Access to the total amount of hours per day

Live access to employee rosters and work schedules 
Employee Leave Requests 
Employees can access My Leave Requests and apply the leave type to their request

 

Request Annual Leave

 & See Annual Leave Balance

Upload a document to a Sick Leave Request

 

Live Status Updates on Requests

 
Employee have access to thier departments leave calendar
Download Now & take advantage of this great new feature by getting your employees to download My Worforoce TNA now!
Find out more about the other features available with ATS Workforce TNA Click Here or Contact Us to talk to our friendly sales team.
Leave a comment
Comments will be approved before showing up.
---
Also in Time & Attendance
The holiday season is a whirlwind for businesses, marking the busiest time of the year. To meet the skyrocketing demand, many employers turn to Christmas casual employees. While this approach can be a win-win for both employers and temporary staff, it is crucial to tread carefully through the legal landscape.
Biometric systems are commonplace in workplaces, ensuring the safety of employee data has become paramount. With its commitment to best practice security measures, Aussie Time Sheets sets an exemplary standard in protecting employee data
Contactless timekeeping has become a crucial preventative measure to take during the cold and flu season. By implementing a contactless timekeeping system, you help to save time, reduce the risk of absenteeism, and protect your employees from contagious illnesses.