The Real Cost of Manual Data Entry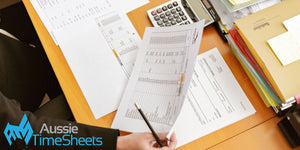 As a business grows, so does the data they need to manage, and subsequently their need for smarter and more efficient systems and processes grows also. While manual data entry might work in the early days of a business, it quickly becomes an inefficient, inaccurate and costly way of managing employee timesheets and payroll. Here are some of the ways that manual data entry costs your business.
The cost of time
Employees require a lot of paperwork and admin hours, that begins when they're onboarding and never seems to end. Manually processing timesheets and payroll is a hugely laborious task; from chasing up missing timesheets, manually adding up time cards, entering these hours into your payroll software, double-checking information entered and correcting mistakes. Time and attendance management systems save your business significant time by automating employee timesheets and directly exporting this information from your Aussie Time Sheets software to your payroll provider.
The cost of errors
Manually processing timesheets opens your business up to human error, which is inevitable in this instance. These errors are not only costly in payroll inaccuracy, but also in the time required to fix these mistakes. Time and attendance management systems eliminate the risk of errors by cutting out manual calculations and hand-written timesheets.
The cost of time theft
Time theft is the term used for when an employee is paid for hours they did not work. There are many different kinds of time theft; from buddy-punching, late starts, early finishes and taking longer than allocated breaks to personal activities during work time, unauthorized employee overtime, not clocking out to run errands and rounding timesheets. Time theft occurs when employee work hours are not being automatically tracked, therefore a time and attendance solution will eliminate the risk of time theft. 
The cost of legislation
With the introduction of Single Touch Payroll, employers will soon be required to report digitally to the ATO every time a pay run is processed, rather than just once a year. Many employers are still using paper or spreadsheets to manually manage timesheets and payroll; however, Single Touch Payroll will soon make this practice obsolete. A time and attendance management system will ensure you have accurate payroll information in a digital format, ready to be quickly and easily reported to the ATO.
The cost of money
Manual data entry costs businesses significant money in payroll hours, as well as through hours lost to tardiness, time theft, errors in payroll or misreported work hours. Time and attendance management systems can save your business significant amounts of money by reducing administration hours, as well as eliminating inaccurate time reporting, buddy punching, tardiness and time abuse. 
The cost of bad data
Manual timesheets are prone to error and misassumptions around work hours. Without manually going through and looking at your paper timesheets and spreadsheets, there is also no way to review data and identify problems with attendance. Time and attendance management systems can create reports for each employee; showing hours worked, breaks taken and other habits. This allows employers to easily spot trends in employee tardiness or time theft.
One way to reduce manual data entry within your business is to automate your employees' time and attendance management. Our time and attendance management systems are designed to work for you and your business; automating a manual timesheet process and seamlessly integrating with your current payroll software, so you can better spend your time growing your business. If you'd like to learn more about the time and attendance solution right for your business, contact our Aussie Time Sheets team today.
Leave a comment
Comments will be approved before showing up.
---
Also in Time & Attendance
The holiday season is a whirlwind for businesses, marking the busiest time of the year. To meet the skyrocketing demand, many employers turn to Christmas casual employees. While this approach can be a win-win for both employers and temporary staff, it is crucial to tread carefully through the legal landscape.
Biometric systems are commonplace in workplaces, ensuring the safety of employee data has become paramount. With its commitment to best practice security measures, Aussie Time Sheets sets an exemplary standard in protecting employee data
Contactless timekeeping has become a crucial preventative measure to take during the cold and flu season. By implementing a contactless timekeeping system, you help to save time, reduce the risk of absenteeism, and protect your employees from contagious illnesses.