How to Manage Employees Working from Home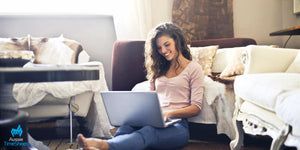 Working from home and remote has now become the norm for most people working in non-essential businesses. Due to the current health crisis, many companies are transferring to a remote workforce during the COVID-19 pandemic.   
Working from home has its challenges and also raises questions around the operational processes. How can you manage attendance and communicate with employees working from home? How can you keep payroll running while working remotely?  
Check out the following quick tips on managing employee attendance for remote teams:  
Tip 1 - Track Time & Attendance, the right way 
Time tracking is essential for tracking productivity and time for payroll. Ensuring employees are paid correctly for the hours they work. So how do employees who are working from home record their time?   
There are different types of time tracking software available. Aussie Time Sheets has everything your business needs to record your employee attendance remotely.  You may choose to implement an employee self-service system, where the employee can log their start and finish time in their web browser using a pc or tablet. 
Employee apps are top-rated and are essential for managing employees who work from home or on the road. Mobile apps are perfect for employees to log in and out on the go and manage holiday leave from their mobile. Employees working remotely or from home can log into the system and record their start and finish times. Once a pay period is over, they check and approve the total hours on the timesheet ready for approval from their manager or payroll officer.   
Tip 2 – Remote Access to Timesheets and Payroll Systems   
Accessing systems and applications remotely is essential. You may need offsite access to data to manage payroll from your home office, or if you are running multiple sites, you'll need access form head office. Aussie Time Sheets has everything your business needs to manage timesheets remotely and integrates with popular online and cloud-based payroll systems.   
Every business should consider implementing a dynamic payroll system that can be accessed online. An online payroll system will ensure you can process payroll while working remotely from home and allows a business to optimise its daily operations while ensuring compliance and accuracy. We recommend considering Xero, QuickBooks, MYOB that offer an online system for access to payroll wherever you are.  
Tip 3 - Make communicating to the team from home easy 
Many online communication tools make it easy to chat with your employees working from home. Now is a good time to implement further tools and get staff ready to work from home for longer. Instant messaging tools are a great way to communicate quickly and easily. Microsoft teams, Slack, Google hangouts no matter what platform you prefer, there is an app available. These tools help ensure that your workforce can run seamlessly and keep the lines of communication open between employees. Enabling your workforce to work smarter, spending less time on back and forth email chains and communicate instantly.  
Tip 4 - Implement digital tools & technology 
Working from home or remotely is hardly a new concept. The chances are that you already work from if you're in an industry like IT services, customer service, freelancers or bookkeeping. Daily catchups are important, and face to face where possible is even better. Web conferencing tools like Zoom, Skype and Webex are perfect for getting everyone together from home. Video communications help employees working from home feel like they are part of the team and brings everyone together. Video calls are also more engaging, and everyone can see each other body language and make eye contact.   
If you are considering implementing a time and attendance solutions for your business to manage employee timesheets head over to Time and Attendance Solutions for Working From Home page to check out our range of solutions.   
Leave a comment
Comments will be approved before showing up.
---
Also in Time & Attendance
The holiday season is a whirlwind for businesses, marking the busiest time of the year. To meet the skyrocketing demand, many employers turn to Christmas casual employees. While this approach can be a win-win for both employers and temporary staff, it is crucial to tread carefully through the legal landscape.
Biometric systems are commonplace in workplaces, ensuring the safety of employee data has become paramount. With its commitment to best practice security measures, Aussie Time Sheets sets an exemplary standard in protecting employee data
Contactless timekeeping has become a crucial preventative measure to take during the cold and flu season. By implementing a contactless timekeeping system, you help to save time, reduce the risk of absenteeism, and protect your employees from contagious illnesses.