Why It's Time to Evaluate Your Timekeeping Practices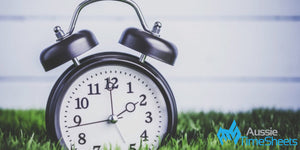 As a business owner there are never enough hours in the day. It can often feel like you're barely able to get through all of your day-to-day tasks, let alone have any extra time to look at your systems and processes and see if there are ways you could increase efficiency and eliminate tedious tasks.
Today's workforce is rapidly growing and evolving, and if you aren't keeping up with the pace it can cost your business significantly in terms of lost work hours, higher employee turnover, unnecessary administrative tasks and costs and a reduced bottom line. Outdated tools and processes will slow you down, decreasing employee productivity and raising costs – not to mention making your job far harder than it needs to be. To put it simply, if your business is still using paper or spreadsheets to track employee work hours, you are throwing significant time and money down the drain.
At Aussie Time Sheets we automate your timekeeping system, simplifying and streamlining your payroll process to help your business run more efficiently. Our time clocks are designed for businesses of every size, whether you're in retail, wholesale, manufacturing, mechanics, hospitality, transport, healthcare, farming, construction or IT, we have the right time and attendance solution for you.
Benefits of a time and attendance system
Saves you time


Timekeeping and payroll is a very laborious task. Automating these processes frees up administrative staff to be able to focus on other tasks, and in the case of small businesses, frees up your time as the business owner to focus on growth, rather than everyday administration.



Saves you money


A time and attendance system will not just save you money by reducing administrative tasks and therefore costs, but also by eliminating time theft and the lost labour costs associated with this.



Improves accuracy and reduces errors


Manually processing timesheets and payroll opens your business up to the element of human error, which takes significant time and can be very costly to fix.



Eliminates time theft


Our time clocks utilise facial and fingerprint recognition, eliminating the chance of buddy punching, where one employee clocks on or off for another. Monitoring employee attendance also reduces the risk of time theft; including late starts, early finishes, longer than allocated breaks, unauthorized overtime, personal activities during work hours, rounding timesheets and employee disengagement at work.



Increases employee productivity, accountability and morale


It's not just payroll staff who become more productive without the tedious task of manual timekeeping; overall employee productivity will increase as employers are able to use data from their time and attendance system to look at trends in work hours, easily highlight areas where worker productivity is low and identify why this is happening. Employee morale also increases knowing that there is an efficient system in place that eliminates human error and knowing their pay will always be accurate. Our Workforce TNA solution also features a live employee portal, which allows employees to log in at any time and check their timesheets and request leave; making them feel empowered and responsible for their work schedule.
Outdated timekeeping methods are not only painful for managers, employees and the overall business, but they are also costly and prone to errors. While keeping up with the ever-changing workforce and technological advancements can seem daunting, it doesn't have to be. At Aussie Time Sheets we have smart solutions for businesses of every size and budget, get in touch with our friendly team today to learn more about the right time and attendance management system for your business.
Leave a comment
Comments will be approved before showing up.
---
Also in Time & Attendance
The holiday season is a whirlwind for businesses, marking the busiest time of the year. To meet the skyrocketing demand, many employers turn to Christmas casual employees. While this approach can be a win-win for both employers and temporary staff, it is crucial to tread carefully through the legal landscape.
Biometric systems are commonplace in workplaces, ensuring the safety of employee data has become paramount. With its commitment to best practice security measures, Aussie Time Sheets sets an exemplary standard in protecting employee data
Contactless timekeeping has become a crucial preventative measure to take during the cold and flu season. By implementing a contactless timekeeping system, you help to save time, reduce the risk of absenteeism, and protect your employees from contagious illnesses.