The Aussie Time Sheets Proximity Card Time Clock makes clocking on for work easy, with an RFID Proximity contactless sensor. Employees simply wave their card or tag past the front of the clock and their time is recorded.
This device can ensure that all employees are logging all their time worked and sufficient records are kept for all employees.
The device stores all the employee details and time logs in its internal memory, then retrieved by you Aussie Time Sheet software, where it will be calculated and ready to report for payroll.
We have the right time and attendance software solution for your business using this proximity card time clock. Software licence options include ongoing software updates & enhancements or outright software licence purchase. See below to explore our software options.
3.0'' Colour Screen
Clock on using Proximity Card/Tag or Pin Code
Takes under 1 second to clock on for work
Store up to 10,000 proximity cards
Transfer data to PC over WiFi, Ethernet or USB drive (included)
5v power supply included
External Bell Relay inbuilt, connect bell to signal work/break times
2 Years Warranty on Time Clocks
12 Months Full Support included, worth $99!
We DIRECTLY SUPPORT all our products with our Support Team here in Australia
Aussie Time Sheets makes automating your employee time sheets a breeze. Our software has been designed and developed right here in Australia for Aussie businesses.
Automatically calculate your employee's work hours, break times, overtime and leave all on a simple to use electronic time sheet. Accurate start and finish times from your time clocks are automatically downloaded and calculated. Process your timesheets in minutes, then easily export to your payroll software. ATS Software exports to Excel, MYOB, Unipay, Wage Easy, Quickbooks, Attache and PayTek, with more payroll exports being added at no extra cost.
Accurate data, automatic shift calculations with payroll integration. Automate your sign on to payroll process with Aussie Time Sheets.
Recommended PC Specifications: CPU: 2Ghz or higher, RAM:4GB, HDD: 2GB free, OS: Win7 or higher
Click Here for more information
Our Premier version has additional features for growing businesses. Some of these include:
Concurrent users - Install software to multiple PC's, all accessing the data at the same time.
ATS Web Portal included - Giving employees the ability to clock on/off using their smartphones, with GPS location stamped to their clocking.
Additional calculations to handle more comprehensive award rates.
The benefit of ATS Premier version of software is that it is accessible from any client PC and has been designed for more people to access the same data. Managers and supervisors are all able to access and login at the same time with any changes instantly taking effect, users can be given restricted access allowing particular users to view or edit, with all changes made being tracked on the Audit Report. Users have access to attendance reports for who is onsite, and in an emergency situation the report can be viewed and quickly printed. This version also gives you access to the mobile clocking web page, where employees are able to clock on and off remotely from their mobile device which records the date, time and street address of where the clocking was made.
The multi-user version, using SQL Server, requires a software download of about 1GB and about 1-2 hours to install and configure on the server.
Recommended Server Specifications:
CPU: 2Ghz or higher
RAM:8GB
HDD: 10GB free
OS: Server 2008 or higher
Database: SQL Express 2008 or higher
IIS: IIS7 or higher
Click Here for more information
Mobile Clocking Solutions with ATS Premier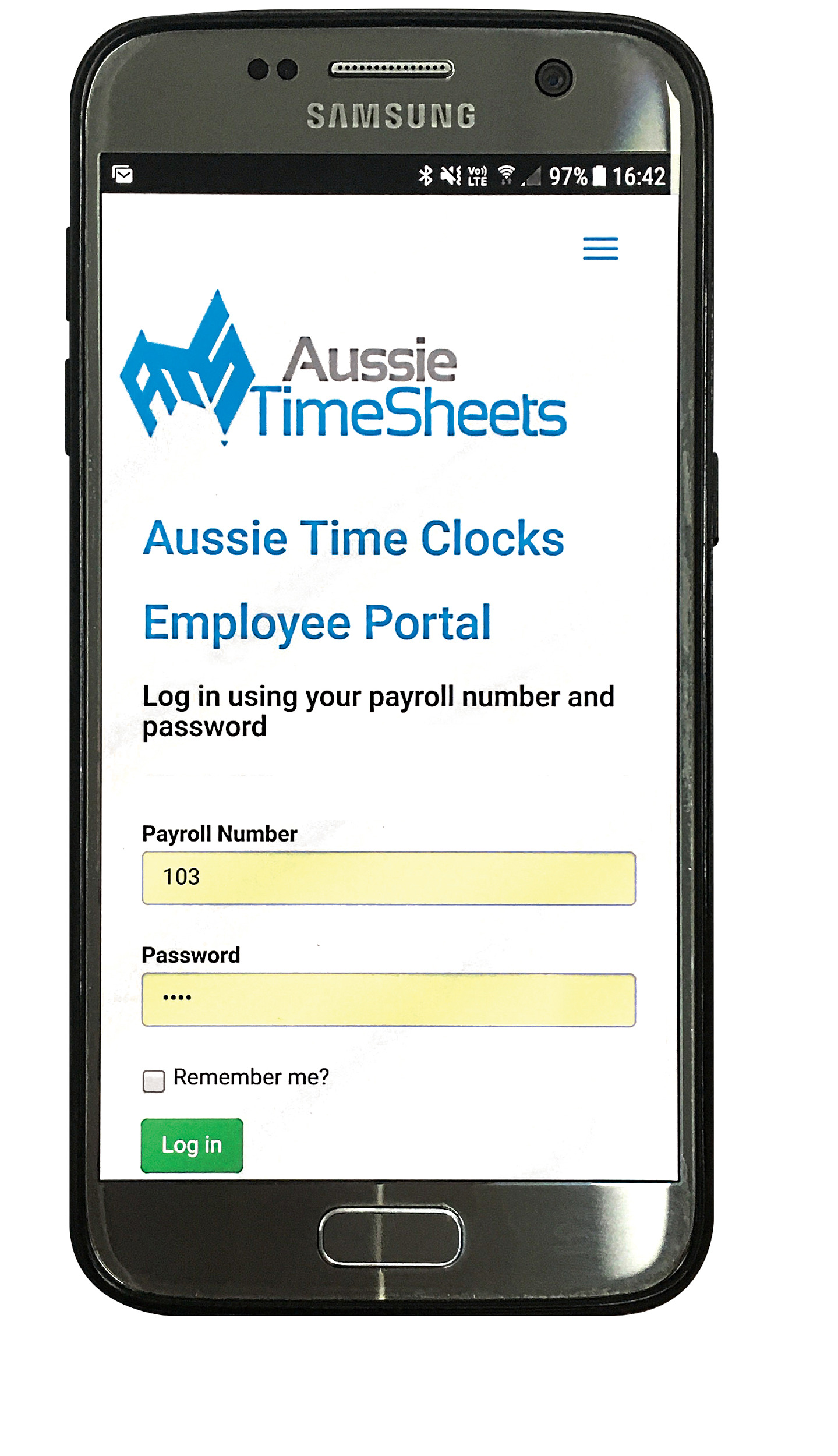 Our mobile clocking new feature is accessible with our ATS Premier (SQL Server version) and allows employees to clock in and out remotely from anywhere off site.

The most unique feature of the mobile clocking solution is that it's self hosted, which means that Cloud subscription fees are not required. This solution combines a clocking in and out feature and location tracking via your employees phone, allowing time tracking and employee accountability.

Employees simply view your Employee Web Portal on their smartphones, login and can clock on or off from anywhere. The street address of their location is attached to the clocking time for easy reporting.
Make paying employee's fast & simple!
Pay Sync is an API connector application that works with our Aussie Time Sheets Basic, Premier and Workforce TNA solutions. Use PaySync to seamlessly integrate your timesheet data from Aussie Time Sheets to Xero Payroll, directly via API. Using Xero's latest API coding, this application gives you the ability to connect Xero's cloud payroll to our Aussie Time Sheets solutions.
Aussie Time Sheets integrate directly with Xero making employee payroll fast and simple. Xero is one the most popular accounting applications in Australia. Our direct integrations allow fully calculated employee work hours to be sent to Xero as a draft or approved time sheets. All leave is sent from Aussie Time Sheets to Xero as approved or unapproved leave. Employees can then view their timesheets and leave using an employee Xero login, or using the Xero ME app.
This short video will show you how it works and how simple our solutions are to set up and use for you and your employees. Automate your employees time sheets and export the information to payroll from our easy to use and affordable time sheets solutions.
Aussie Time Sheets Basic software works with any ATS windows based time clock. Simply choose your device and your software license type and any additional accessories you would like and you are on your way.
Related Items
uAttend CB6500 Time Clock, Cloud Time Sheets
$249.00
Description Features Software Product Reviews The uAttend CB6500 makes time and attendance simple and smart, with a proximity card time clock combined with time sheets in the cloud. Wave your...
---