Do you have 25 staff, 1 bookkeeper, and want to automate payroll?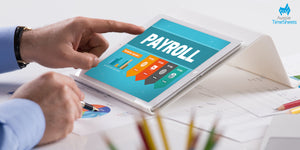 Do you have 25 staff, 1 bookkeeper, and want to automate payroll?
Does your business have between 20 and 50 staff members, one payroll officer or bookkeeper, and wanting to automate payroll?
We have the right solution for your business, our Aussie Time Sheets Basic software, with your choice of time clock hardware. Why is this the best system for you? What savings will you see from your investment?
Let's explore further.

First off, why is this the best system for you?

Our Aussie Time Sheets system is windows based and allows your employees to quickly and easily clock in and out for work. Depending on which time clock is best for your business, employees use the clock to log their time, which automatically records the time and date.
The time clock data is uploaded to your timesheet software, where it populates each employee's timesheet calculating the daily and weekly worked hours. Our software integrates seamlessly with Xero & MYOB Payroll via API and also integrates to other leading payroll providers.
When it comes to sending your timesheets to payroll, you can easily export data to payroll. Your bookkeeper can access the information quickly and easily, eliminating manual data entry from spreadsheets or paper timesheet that you have spent time faxing through each pay period.
What are the features:  
Easily manage employee work hours 

 

Clock time rounding and auto break deductions 

 

Integration 

with payroll systems 

 

Accurate record-keeping of timesheets 

 

Biometric 

time clock hardware

 

compatibility

 

Body Temperature recording and reporting

 
How much time and money can you save from automating your timesheets process?
New software solutions and systems are always an investment for a business. Aussie Time Sheets software solutions can save significant amounts of time and money by reducing admin hours spent on payroll and eliminating errors on timesheets, inaccurate timesheets records, time theft and buddy punching.
We want to break it down to exactly how much time and money you can save by automating your timesheets process.   
Using our comprehensive ROI calculator, we've estimated that a small business with 25 employees can save $17,104.25 per year. Lets' break that down further in the example below:  
Pay periods per year

52 (weekly) 

 

Number of Employees

25

Hourly wage of payroll staff

$25

Hourly wage of employees

$20

Number of hours per work week

38

Number of work weeks per year:

50 weeks 

Time spent adding up each time card:

2.5 minutes  

Administration error rate: 

1.0%

Time theft per employee per day:

5 minutes
| | |
| --- | --- |
| Results:  | |
| Eliminate manual calculations and save: | 54.17 hours & $1,083.25 per year |
| Reduce errors and save: | $9,500 per year   |
| Reduce time theft and save: | 312 hours & $6,250 per year |
| Total Annual Savings: | $17,104.25 Per Year |
After calculating the savings you will see the system pay for itself with your positive return on investment. With just under $20,000 worth of savings you can put back into your business it goes without saying that you should be automating you timesheet to payroll process. 
Calculate your savings using the 
ROI Calculator
 and your own figures! 
Payroll officers, bookkeepers and accounts love our solutions as it is easy for them to get the data required for payroll and keep records for compliance and Fair Work legislation.   
A recent client with under 50 staff members said: Great service with attention to detail and outstanding support to have the Clock up and running so quickly - transformed the time keeping for employees making it easy for employer and employee. Would highly recommend. 
Web chat or contact our friendly team today to automate your payroll process. 
Leave a comment
Comments will be approved before showing up.
---
Also in Time & Attendance
The holiday season is a whirlwind for businesses, marking the busiest time of the year. To meet the skyrocketing demand, many employers turn to Christmas casual employees. While this approach can be a win-win for both employers and temporary staff, it is crucial to tread carefully through the legal landscape.
Biometric systems are commonplace in workplaces, ensuring the safety of employee data has become paramount. With its commitment to best practice security measures, Aussie Time Sheets sets an exemplary standard in protecting employee data
Contactless timekeeping has become a crucial preventative measure to take during the cold and flu season. By implementing a contactless timekeeping system, you help to save time, reduce the risk of absenteeism, and protect your employees from contagious illnesses.