What is Time Theft and How Much is it Costing My Business?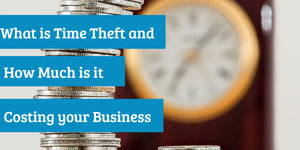 What is Time Theft?
Employee time theft is a huge, but often hidden, issue that happens across every industry and in businesses of every size. By definition, time theft is when employees are paid for hours they did not work. There are a number of different forms of employee time theft, including buddy-punching, late starts, early finishes, longer than allocated breaks, unauthorized overtime, personal activities during work hours, rounding timesheets and employee disengagement at work. Buddy punching in particular is a very common form of employee time theft, where employees clock on or off for one another if a colleague is running late or absent from the workplace entirely.
What is Time Theft Costing my Business?
Employee time theft may seem fairly inconsequential, but it's impact on your business is significant. A recent study shows that the average employee steals up to 4.5 hours per week from their employer, which is nearly six full working weeks each year! If you look at it this way, assume you lose 10 minutes a day to an employee, purely from a late clock on, long lunch break or rounding up their finishing time. If you have five employees, that's 50 minutes per shift. If you're paying $25 an hour, that's 216 work hours a year you're losing, a total of $5,400 in employee wages. If you have multiple shifts a day or even more employees, this number rises significantly.
How Can I Stop Time Theft?
A time and attendance system is the number one way you can reduce employee time theft. Manual timesheets are the most susceptible to errors or deception, so if you haven't automated your employee time and attendance, then you are likely losing thousands of dollars each year in lost work hours, payroll errors and administration hours.
Our Aussie Time Sheets time and attendance systems replace your manual timesheet and payroll processes, giving you an automated system that is simple, reliable and accurate. Our time clocks quickly become a seamless part of your employee's everyday work day, with time and attendance solutions designed for businesses of all sizes and industries.
We have a range of different time clocks, including Bundy Clocks, Face Scan Time Clocks, Fingerprint Time Clocks, Proximity Card Time Clocks and mobile clocking web portals. As employees' clock on or off for their shift, the time and data is automatically recorded to the minute, and this data is sent to your timesheet software where it can be exported to payroll.
Eliminating time theft also comes down to making employees feel like a valued part of the time and not just another cog in the wheel. Investing in the right time and attendance software will eliminate employee time theft greatly, from there you can also take steps to reward employee attendance to drive productivity and enrich employees' work experiences.
To learn more about the right
time and attendance solution
to reduce employee time theft in your business,
contact
our friendly Aussie Time Sheets team today.
1 Response
Leave a comment
Comments will be approved before showing up.
---
Also in Time & Attendance
The holiday season is a whirlwind for businesses, marking the busiest time of the year. To meet the skyrocketing demand, many employers turn to Christmas casual employees. While this approach can be a win-win for both employers and temporary staff, it is crucial to tread carefully through the legal landscape.
Biometric systems are commonplace in workplaces, ensuring the safety of employee data has become paramount. With its commitment to best practice security measures, Aussie Time Sheets sets an exemplary standard in protecting employee data
Contactless timekeeping has become a crucial preventative measure to take during the cold and flu season. By implementing a contactless timekeeping system, you help to save time, reduce the risk of absenteeism, and protect your employees from contagious illnesses.