What is Buddy Punching and How Do I Stop it?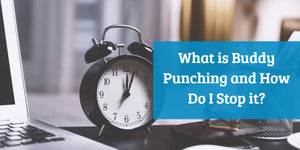 When we hear the word "theft," it likely conjures images of something valuable being stolen. What you might not know as an employer, is that theft occurs in the workplace every day, but perhaps a different kind of theft than you're familiar with. Time theft is the term used for when an employee is paid for hours they did not work.
There are a number of different types of employee time theft; including buddy-punching, late starts, early finishes, taking longer than allocated breaks, personal activities during work time, unauthorized employee overtime, not clocking out to run errands and rounding timesheets. Time theft is a huge drain on company resources, and if you're an employer it's likely you're paying the price of it.
However perhaps the biggest cause of employee time theft is called "buddy punching," and it doesn't happen solo. Buddy punching occurs when one employee clocks in or out for another. Say you're running late for work and know you won't be able to clock in on time, you send a quick message to a colleague asking them to clock on for you. Or you need to leave early and don't want to ask your boss, so you ask a colleague to clock you out at the end of your shift. In larger workplaces that aren't as closely monitored, buddy punching can be responsible for employees not showing up to the workplace for their shift at all.
A Nucleus Research report states that around 19% of workers have admitted to buddy punching for a colleague, and companies in the United States are losing $400 billion annually to buddy punching. Buddy punching is an extremely serious breach of employers' trust and should be treated as seriously, essentially it is the employee stealing from your company. Fortunately, we have time and attendance solutions that can put a stop to buddy punching and eliminate employees cheating your business and inflating your payroll.
Buddy punching most easily occurs when a company is using manual timesheets or punch cards, as employees are easily able to log hours for their co-workers. Our Aussie Time Sheets time clocks differ in that they use biometric technology to allow employees to easily and accurately clock in and out for their shifts. This is through either fingerprint scanners or facial recognition time clocks, eliminating any way for a colleague to clock in for another.
These time and attendance management systems store the time and data as the employee clocks in, then sends this information to your Aussie Time Sheets software, where it will be calculated and ready to report for payroll. So not only are you saving significant time and money through the reduction of time theft, but a time and attendance system also helps your business by reducing payroll hours and the costs associated with this.
Our Workforce TNA time and attendance solution also allows you to see live and accurate employee timesheets. As the employee time sheet data is transferred live, you can log in at any time and easily see who has clocked in and who is missing, no matter where you are, giving you a birds-eye view of your workforce.  
If your business is not tracking employee time and attendance automatically, your employees are likely abusing this and your bottom line is being significantly affected by time theft. Contact the Aussie Time Sheets team today to discuss the right time and attendance solution for your business.
Leave a comment
Comments will be approved before showing up.
---
Also in Time & Attendance
The holiday season is a whirlwind for businesses, marking the busiest time of the year. To meet the skyrocketing demand, many employers turn to Christmas casual employees. While this approach can be a win-win for both employers and temporary staff, it is crucial to tread carefully through the legal landscape.
Biometric systems are commonplace in workplaces, ensuring the safety of employee data has become paramount. With its commitment to best practice security measures, Aussie Time Sheets sets an exemplary standard in protecting employee data
Contactless timekeeping has become a crucial preventative measure to take during the cold and flu season. By implementing a contactless timekeeping system, you help to save time, reduce the risk of absenteeism, and protect your employees from contagious illnesses.