Aussie Time Sheets + Accentis Payroll Integration
Connect Aussie Time Sheets & Accentis
Aussie Time Sheets and Accentis have partnered to deliver a seamless experience when exporting employee data for payroll. Aussie Time Sheets Time Clocks record accurate start and finish times for your employees work hours.
Need a Time Clock Solution?
Why Use Aussie Time Sheets & Accentis
Seamlessly export employee timesheets and leave from Aussie Time Sheets to Accentis Payroll with the click of a button.
Easily edit or modify employee timesheets once sent to Accentis from Aussie Time Sheets ready  for payroll.
Accentis Enterprise is fully compliant to handle STP obligations by the ATO since July 1st, 2018 ensuring compliance.
How does the time sheet integartion work between Aussie Time Sheets and Accentis? Simply select the pay period for the employee timesheets you wish to export from Aussie Time Sheets Basic, Premier or Workforce TNA and click export. When you open Accentis software you will receive a pop up (import timesheet) letting you know your employee timesheets are ready to import.
Features:
The data exported from Aussie Time Sheets for is the employee ID, the date, total hours worked.

A break down of the number of hours worked against each pay code they are entitled to.

An Employee Payroll Summary Report can also be exported in a .csv or pdf report format.

Employees time sheets data has the total daily and weekly worked hours in the timesheets section of Accentis.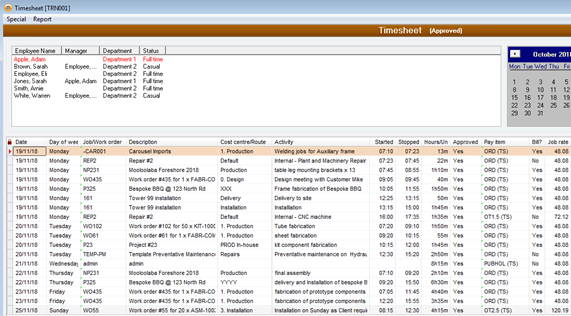 A sample of Aussie Time Sheets employee time sheet data in Accentis ready for
further reconciling, editing, or processing.

Get The Best Payroll Software Available Today!
Single Touch Payroll (STP)

compliant for ATO changes 2018.
Available as Stand-alone or Fully-integrated with

Accentis Enterprise modules

.
Integrated seamlessly with

Time Clocks

,

Job Costing

and more.

User-defined options allow customisation for business requirements.

Many fields allow the recording of unlimited information.

Advanced functionality of employee records

.

Request for a Free Demonstration of Accentis today.
Very helpful salespeople and support staff with a very cost effecting time and attendance system which will no doubt pay for itself.
East Adelaide Dental
Amazing company from A to Z, clear, honest service and product. The technical support is also excellent! Thanks Nathan !!
The Great Ozzy Bakehouse
The whole process of working with Aussie Time Sheets has been great! Right from sales through to installation, the team are extremely friendly and helpful. This was a great outright solution to our payroll system and we look forward to getting it fully up and running.
Lighthouse Care
Have an Aussie Time Sheets system and want to integrate with Accentis - Contact Us Today!