Do you need a solution to record employee temperatures for WHS?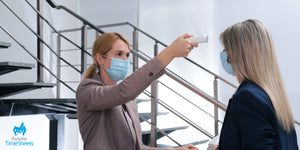 Do you need a solution to record employee temperatures for WHS?
Many workplaces and public sites are now pre-screening employee temperatures before entry to the workplace as a preventative measure. Temperature screenings and health questionnaires are measures your business can implement to help restrict unwell individuals from entering the workplace.   
Workplace safety will continue to remain a top priority for businesses. Business in many industries may be required to comply with mandatory directions issued by the Chief Health Officer. You may be required to test the temperature of employees before entry into the workplace.   
When it comes to your employees' recording temperatures for Workplace Health and Safety, how can you meet these requirements? What is the best method? How can you capture and record temperatures in your workplace?  
Let's explore three ways to capture and record employee temperatures for your workplace.   
1. Non-Contact Thermometer & Paper records
Pen and paper method and using a non-contact thermometer.
Business would conduct this by having one person at the entry point or admin desk using a non-contact infrared forehead thermometer to take and record employee temperatures. Employees equipped with personal protective equipment would queue to have their temperature taken and recorded before entering the workplace. The employees' temperatures are manually recorded, and employees over 37.4 or higher are sent home.

This method could become unreliable due to incorrect records, people rushing or being time-poor.
2. Body Temperature Detection Device
Get something a little more automated to do it for you.   
The Body Temperature Detection thermometer is perfect for capturing employees' temperature when they are clocking in and out for work. The temperature device is powered via USB and can be mounted on the wall easily. The device can be used entirely standalone, with the temperature displaying on the screen with no records.  
We want to automate the process, so we have designed our software to automatically collect the temperatures and record them in Aussie Time Sheets time and attendance software. You can easily access the temperatures recorded from a report. Even better, our time clocks, ATS fingerprint clock and ATS face scan clock can power the body temperature device from the USB port.  
Temperatures are recorded and available on a clocking report from Aussie Time Sheets Basic & Aussie Time Sheets Premier software.    
The device reads the employees body temperature by measuring the heat radiation of the palm or wrist. Employees hold their wrist in front of the device and wait for a temperature to display on the screen. The devices green LED light flashes for a second, indicating the temperature is below the normal range of 37.3°C.  
When the temperature measured is above 37.3°C, the red LED light turns on for a longer time, and the buzzer beeps three times. If the subsequent temperature measurement is triggered when the buzzer is already alarming, the current high-temperature alarm is interrupted.    
3. T

ouch-Free Time Clock with Temperature Reading
All the bells and whistles with a touch-free time clock with temperature reading. Clock alerts, automated temperature recording and reporting and in-app notifications to your time and attendance software.
Easily manage workplace safety by recording your employees' temperature as part of your attendance capturing. Our ProFace-X Temperature Detection clock, coupled with our Workforce TNA software which records, reports and notifies you of all employee's temperatures captured. The ProFace-X TD will ensure that your employee temperatures are being recorded and informing you of any temperatures outside the set threshold.   
Access the data you need and quickly generate reports with the temperatures for compliance requirements. Notifications are sent to managers via email, notifying them right away that an employee has clocked with a high temperature. Set a temperature lockout threshold, and the time clock will prevent clocking for employees that meet or exceed this temperature. The screen will light up red, and the high temperature displayed on the screen notifying the employee of the high temperature.   
The ProFace-X TD time clock is perfect for various industries, including food manufacturing, health and medical, retail, mining and education sectors.  
The ProFace-X TD time clock's key benefits for employers are ensuring employees with high temperatures do not interact or come in contact with other employees in the workplace. You are keeping necessary records for those required to keep temperature records. You support a safe and productive workplace by keeping your employees safe and minimising the risk of a virus spreading through the workplace, potentially suffering productivity loss.   
The Proface-X TD features contactless clocking via facial recognition or palm detection. When enabled, the clock can also recognise if an employee is wearing a face mask and rejects them from clocking in if they are not wearing a mask.    
If you are interested in any of our products for detecting and recording employee temperatures, please reach out to us. You can call us on 1300 309 339 or from our contact us page.  
Leave a comment
Comments will be approved before showing up.
---
Also in Time & Attendance
The holiday season is a whirlwind for businesses, marking the busiest time of the year. To meet the skyrocketing demand, many employers turn to Christmas casual employees. While this approach can be a win-win for both employers and temporary staff, it is crucial to tread carefully through the legal landscape.
Biometric systems are commonplace in workplaces, ensuring the safety of employee data has become paramount. With its commitment to best practice security measures, Aussie Time Sheets sets an exemplary standard in protecting employee data
Contactless timekeeping has become a crucial preventative measure to take during the cold and flu season. By implementing a contactless timekeeping system, you help to save time, reduce the risk of absenteeism, and protect your employees from contagious illnesses.