Aussie Time Clock Kiosk - Facial Recognition App
Aussie Time Clock Kiosk Facial Recognition App

Works with your payroll software:
Using facial recognition employees can clock on or off for work in seconds
Times logged flow directly into your Aussie Time Sheets system where timesheets are auto calculated

Export approved timesheets to payroll and ensure employees get paid accurately
Read more about our timesheet software

Benefits that make employee clocking easier:

Connect to your Local Network to Quickly Transfer Data
Active Liveness Detection   
Android Tablet Compatible
Optional Contactless Clocking  
Aussie Time Sheets Basic Windows 10 software included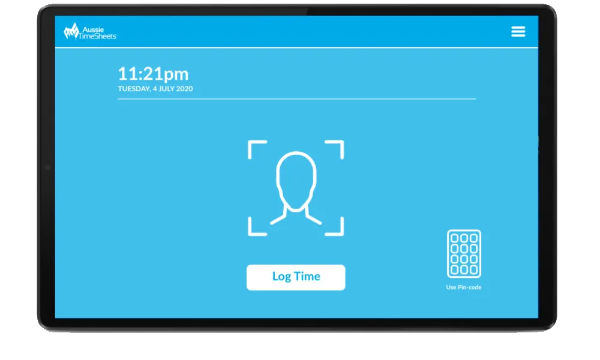 Easy to use Employee Time Clock

In-App Facial Recognition Clocking
Capture Shift Start, Finish & Break Times
Web Application, Offline Clocking capabilities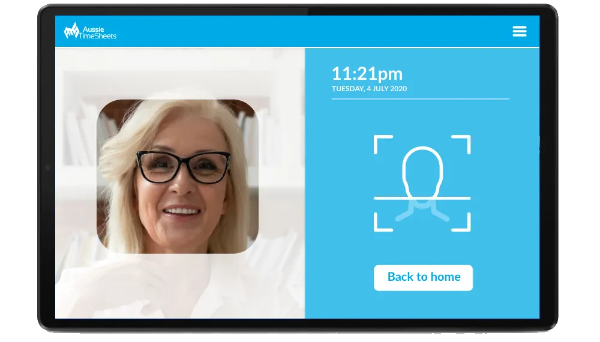 Additional Time Clock Kiosk Features with Workforce TNA

Cost Centre & Job Tracking  
Employee Timesheet Approvals   
Employee Self Service Options   
Select Clocking Time Type 
Unlimited Daily Clockings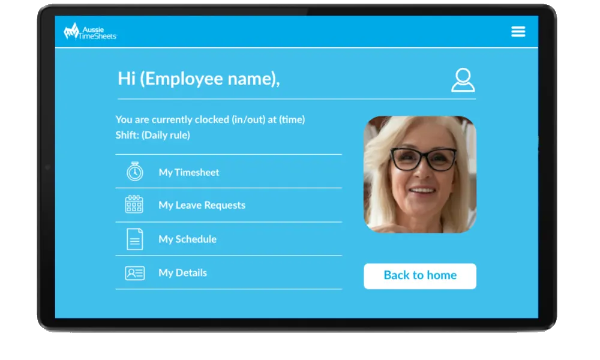 Do you provide the tablet?
Yes, we provide the Lenovo Tab M10 FHD Plus (2nd Gen) 10.3-inch 64GB Tablet.  
Do you provide the wall mounts?
Yes, We've teamed up with Boss-Tab who supply a secure universal tablet stand that doesn't require a case, clamps, brackets or cables.
We recommend using the Freedom Tablet Wall Mount. Click below for more information.
What are the admin & manager features?
Manager have access to the settings menu allowing them to check employee timesheets.
- Add new employees  
- Edit an employee profile  
- View all clocking's
What features are avilable for employees?
Employees can access a range of additional features when using our enterprise level software Workforce TNA.
- Employees can quickly and easily view or approve timesheets
- Request annual and sick leave
- View work schedule  
- View and edit personal details
What after sales support do you provide?
Our support team is available 9.00 am - 5 pm AEST Monday through Friday to assist you.
Visit our Support Center to contact us or email support@aussietimesheets.com.au