Do you need two-way timesheet and payroll integration?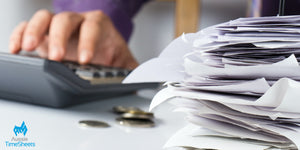 Do you need two-way timesheet and payroll integration?
Integrating and streamlining between key business system has become the norm. Businesses require vital data that needs to be shared, and manual data entry is generally necessary to get this data from one system to another. Two-way API integration is an API (Application Programming Interface) that allows information to be sent back and forth between two pieces of software or applications automatically.  
Does your business need timesheet and payroll integration? 

 
The short answer is Yes! Based on the facts below, every business should be integrating timesheets to payroll for maximin efficiency.   
The API allows you to sync employee timesheet data, employee leave or allowances, and employees leave balances. The two-way functionality ensures that an update in one application is updated automatically in the other application without making changes in two separate systems.    
According to a study conducted by the APA (Australian Payroll Association) study, it takes approximately 5 to 6 minutes per employee for someone to calculate and audit an employee's paper timesheet manually. There is a 1-8% clerical error rate when calculating employee work hours and manually entering that data into payroll software.  
One of the most common requests is API integration between timesheets and payroll systems. We have developed an API integration tool Paysync. The API sends data between Aussie Time Sheets applications and Xero, MYOB AccountRight, MYOB Essentials, Unipay. Paysync communicates with each application quickly, reliably and without any data loss.   
Paysync sends data back and forth between Aussie Time Sheets software and Xero, MYOB or Unipay. This data includes employee timesheet data, leave accruals and balances, employee details (like updates to bank details or employee profile information).

Automatically calculate timesheets, manage employee leave with our suite of time and attendance solutions. Compare the features available here. Send your data directly to Xero, MYOB or Unipay with one click, saving you more time on payroll.
We offer integration with leading payroll providers, with more payroll applications being added to our API list soon. Check out our current list of payroll integrations available with our software now.
What is an API, and what are the benefits? 

 
API's allow for interaction and connection that we have come to rely on and expect. An API is commonly explained as a connection between two or more applications via their API's, allowing those applications to exchange data. An API works as a messenger, delivering a request to the other application and then coming back with an answer.  
Without key business integrations, a business will be relying on manual data entry. Often this comes with a potential risk for data entry errors, delayed access to crucial business data and paying for increased staffing costs and labour. These manual processes slow down productivity, and a business can't progress as quickly as it should.   
What are the benefits for a business that can automate its processes by integrating its timesheets and payroll are can be:  
Reduced employee labour costs  

 

Reduced data-entry errors  

 

No delay in accessing critical business data  

 

Faster business processes  

 

Increased customer experience  

 

Reducing business impacts on the environment

 

 
We are all familiar with the instant connectivity that puts the world at our fingertips. You shop at your favourite store, place an order and have it delivered to your door from your computer or smartphone. An API is how different applications connect sending your data from the online store to the delivery courier.
Let's look an example of booking a flight online.
You're probably familiar with the process of searching online for flights. You choose a destination city and date, departure location, class, and other variables like meals, seating, baggage or pet requests).  
To book your flight, you interact with the airline's website to access the airline's database to see if any seats are available on those dates and the cost based on specific variables.  
What if you are using an online travel service for example Expedia or Booking.com that complies information from many different airlines? Just like a human interacts with the airline's website to get that information, an application interacts with its API.  
The API is the interface that collects and delivers the data from that online travel service to the airline's systems over the Internet. Then it takes the airline's response to your request and returns right back to the online travel service. Each step of the process facilitates that interaction between the travel service and the airline's systems - from product selection to payment and delivery. 
If you would like more information on Two-way API integration with timesheets and payroll, please contact our friendly team today. Start saving time and money and streamline your timesheet to payroll process today.  
Leave a comment
Comments will be approved before showing up.
---
Also in Time & Attendance
The holiday season is a whirlwind for businesses, marking the busiest time of the year. To meet the skyrocketing demand, many employers turn to Christmas casual employees. While this approach can be a win-win for both employers and temporary staff, it is crucial to tread carefully through the legal landscape.
Biometric systems are commonplace in workplaces, ensuring the safety of employee data has become paramount. With its commitment to best practice security measures, Aussie Time Sheets sets an exemplary standard in protecting employee data
Contactless timekeeping has become a crucial preventative measure to take during the cold and flu season. By implementing a contactless timekeeping system, you help to save time, reduce the risk of absenteeism, and protect your employees from contagious illnesses.